We're sorry to hear you want to cancel your AutoShip. Here are the steps you can take to cancel your AutoShip order.
1. Login to your sportdogfood.com
account
.
2. Select the "Autoship" tab.
3. Click on the AutoShip that you wish to cancel.

4. On the right side of the screen, you'll see your payment information, frequency of your order, and next order date. Underneath the next order date is the Cancel button.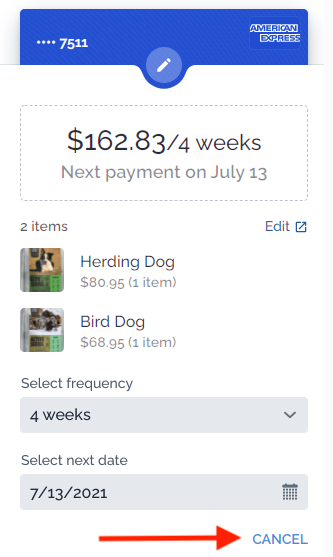 5. When you click this button you will be automatically taken to our Cancellation Form to fill out.

6. After filling out the form, make sure you check the box under Confirmation that says 'Your dashboard will be updated within 24 hours.'
7. Click the Submit button at the bottom of the form.
8. You've officially cancelled your AutoShip order! We're sorry to see you go. You should see your AutoShip orders update on your account within 24 hours.